FREQUENTLY ASKED QUESTIONS
What is a Hiddenbed?
---
The Hiddenbed system combines a desk and bed for the ultimate space saver! It allows you to use the desk space whenever needed during the day to work, craft, or store items, and it transforms into a bed at night in just a few seconds. With our simple locking pins, it's safe to use for any age, simple to transform, and supports up to 50 lbs. (22 kg) on your desk.
---
How do I transform my Hiddenbed from desk to bed?
---
Simply pull out the Hiddenbed locking pins on the left and right side to unlock the bed. Then by pulling on the handle the bed transforms into the desk. Once you're finished using the bed, lift it up from the middle till the bed disappears, and push the locking pins back into place to safely use your desk. It's that easy! Watch here!
---
Can I leave my items on the desk when I switch to the bed?
---
Even when you transform the Hiddenbed from desk to bed, leave everything on your desk up to 17 inches (43 cm) high. Items ranging from digital electronics to sewing machines and associated cables can remain safely connected. The desk is extremely stable, allowing you to leave even beverages on the desk and transform it without spilling a drop!
---
Is the Hiddenbed free-standing?
---
The beauty of the Hiddenbed is that it is 100% free-standing, this ensures that you won't need to damage your walls or floors with extra drilling. It also allows you to move the Hiddenbed as you please around your space or if you plan to move in the future. However, if your floors are not even, we recommend attaching your Hiddenbed to the wall.
---
Does the mattress stay in place when the bed is stowed away?
---
Absolutely! The mattress and bedding can stay in place when it's stowed away in its vertical position. You may need to remove the pillows, but we have additional storage accessories you can purchase with your Hiddenbed.
---
What kind of mattress does it take?
---
Depending on the size of bed you order, a standard Full/Double or Queen mattress up to 10" (25 cm) in thickness will fit your Hiddenbed. You can provide your own mattress, or select a "bed in a box" premium memory foam mattress to come with your Hiddenbed.
---
How do our mattresses compare?
---
Along with your Hiddenbed, you can purchase a premium memory foam mattress starting at $650. It is a 10" (25 cm) mattress with 3" (7.6 cm) cooling gel top, It is a fantastic daily use mattress with a 15-year warranty. For more information on the mattress in a box that we provide, see the photo below.
---
Is the Hiddenbed suitable for children?
---
Yes, children can safely use the Hiddenbed, although we recommend having an adult tranform the Hiddenbed for them.
---
Is the Hiddenbed safe?
---
Definitely! Our high quality locking pins and mechanisms ensure the safety of all users, so you can use the Hiddenbed with ease of mind. It utilizes a patented mechanism, internationally renowned for its safety.
---
Who will assemble my Hiddenbed?
---
We have taken special care to pre-attach as much of the hardware that we can at the factory to make the set up as easy as possible for you. The Hiddenbed setup is a two person job and doesn't require prior knowledge. To watch an assembly video, click the video below. We also have trained installers that are available upon request.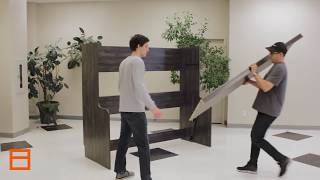 ---
How long does it take to assemble my Hiddenbed?
---
With two people assembling the Hiddenbed at home, it will take around 60-90 minutes.
---
Is the Hiddenbed right for my space?
---
We have made the Hiddenbed as a space-saver so you can use it in any space you see fit. We have had customers install Hiddenbeds in many locations including: guest rooms, home offices, rec rooms, cottages, lofts, tiny homes, condos, apartments, dormitories, and more. It's great for someone downsizing or simply needing the extra space.
---
Why should I order a Hiddenbed from Hiddenbed Direct?
---
We have been producing the Hidddenbed since 2009 and continually strive to provide the most innovative product. Our pricing includes all you need for your Hiddenbed, no hidden fees. We have a variety of Hiddenbeds in stock, and because we are geographically centered in North America, delivery time is typically reduced. We also include free items, such as a power bar, to give you the best value.
---
How do I order a Hiddenbed?
---
Here are the simple steps to order online from Hiddenbed.ca 1) Pick the orientation: Horizontal or Vertical. 2) Choose your size of the bed: Double or Queen (ensure that it fits your space). 3) Pick your colour from our range of 7 choices. 4) Select your accessories as needed. 5) Ask any questions by email or phone to clarify any details. We will be happy to assist you. 6) Receive a confirmation email from our office with an estimated ship date.
---
How long does it take to receive my order?
---
Our most popular products and colours are in stock and ready for immediate delivery. Other products are built to specification and typically take three to four weeks from the point of order.
---
How long should I expect shipping to take?
---
All of the products are manufactured in Winnipeg, Manitoba, near the geographic center of North America. Shipping time will depend on your distance from the manufacturing facility, ranging from 1-5 shipping days to delivery.
---
How does my Hiddenbed arrive?
---
Your Hiddenbed will be delivered directly to your curbside (see above for "How does our shipping work?"), packaged in eight boxes, all numbered for easy assembly. We provide the appropriate assembly tools, minus a power drill. You will also find a paper copy of instructions for the assembly process.
---
Where do you ship to?
---
We ship across Canada and provide free shipping to the door within the major cities listed below. If you live outside these major cities or in the USA, please contact us for other shipping options. Major Cities with free shipping: Vancouver, BC Kelowna, BC Calgary, AB Edmonton, AB Regina, SK Saskatoon, SK Winnipeg, MB Brandon, MB Toronto, ON Kitchener, ON Ottawa, ON Montreal, QC
---
What is the warranty policy?
---
We provide a lifetime warranty on the mechanism and a five-year warranty on the cabinetry, all included in the base price of the product. For more information, you can read our full warranty policy.
---
How much weight can the Hiddenbed support?
---
The bed is rated to 500 pounds (225 kg), however, can support more if fastened to the wall with brackets.
---
What are the beds made of?
---
We use a high-quality commercial grade particle board covered with melamine. The panels are ¾" thick with durable colour match PVC edging. We cover 99% of the exposed edges including the bottom and backs of the panels. The production of our panels uses top-quality wood fibers bonded with a proprietary resin formulation, developed and produced in Canada (ref. CARB II compliant). When exposed to excessively dry or humid conditions, particle board does not crack or warp like solid wood or plywood. Melamine is a TFL (Thermally Fused Laminate) that is highly resistant to scratches, stains, and wears better than a painted or stained product. (Melamine is also typically used in kitchen cabinets construction)
---
How does our shipping work?
---
By offering curbside residential delivery to major Canadian cities, we aim to minimize the risk of COVID-19, and reduce customer cost associated with in-home delivery.
---
What are the exact dimensions of the Hiddenbed?
---
You can find drawings with the detailed dimensions of all of our products here.
---
---